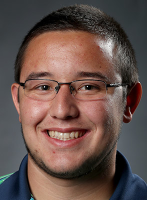 Keenan Betz
Sports Columnist, Reporter & Copy Editor
The 2020 NCAA Tournament National Championship game was supposed to be played Monday, but it didn't because of the coronavirus pandemic. Thanks to my NCAA Basketball 10 video game, I got one result of who could have won the title.
The tournament didn't have many upsets, but it still has been fun playing as a lower seed and delivering most of the upsets. It also gives some closure to March Madness, which I have missed dearly since March began and ended.
Because of the coronavirus pandemic, Galveston County parents may have to start cooking more for their children, but if they keep it simple and don't stress too much, parents won't have much trouble.
While most people are trying to stay indoors during the coronavirus pandemic, it is still crucial to maintain at least 30 minutes of physical exercise a day.
March Madness isn't here because of the coronavirus, which stopped the NCAA from holding it. That doesn't mean I can't create a March Madness bracket using the Xbox 360 NCAA Basketball 10 game. Plus, readers can participate in restaurants they miss bracket during the coronavirus.
Thanks to general manager/head coach/franchise overlord Bill O'Brien, the Houston Texans are now a laughingstock to the NFL. I defended O'Brien about a month ago, but I am now imploring all criticism at O'Brien trading away star wide receiver DeAndre Hopkins cheaply.
The NCAA announced Wednesday it will no longer allow spectators attend its men's and women's college basketball tournaments. The NCAA tournaments and Selection Sunday went from March Madness to March Sadness with the coronavirus still spreading around the United States and around the world.
Clear Creek High School swimmer Cory Shanks will have a chance to make the 2020 Tokyo Olympic Games in swimming when she heads off to Nebraska. Shanks made the Olympic trials by less than one second.
View all