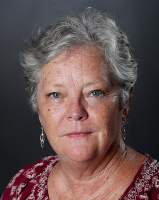 Kathryn Eastburn
Reporter
The rain should clear out mid-morning. 
When Southland Casino Racing, the last live greyhound racing track in Arkansas phases out in 2022, La Marque will be home to one of five remaining live tracks in just four states.
Sen. John Cornyn and Congresswoman Sheila Jackson Lee partner to create the Emancipation National Historic Trail from Galveston to Houston.
People attending the event should park at Gulf Greyhound Park.
Change and growth in the area require a vigilant approach to protecting habitat and water quality in lower Galveston Bay. 
Mike Fossum, chief operating officer and vice-president of Texas A&M University at Galveston, spent much of his first career in space. In a special campus forum, he and others discussed their careers as astronauts.
America in One Room brought together a cross-section of diverse Americans across the public opinion divide, and Professor Shinya Wakao of College of the Mainland was there to watch, learn and participate.
A woman at a convenience store in La Marque on Sunday was caught in the crossfire between two feuding men with guns. 
The police department would not disclose much else about the shooting, however.
Scouting in Galveston and Brazoria Counties, like many other institutions, has a rich historic legacy to be celebrated this month at a gala event commemorating 100 years.
View all