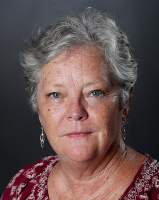 Kathryn Eastburn
Former Reporter
Bio

Kathryn Eastburn was a reporter at The Daily News from September 2018 to May 2020.
Preparing to evacuate a hospital when a hurricane is headed toward Galveston County is a daunting task – potentially amplified this hurricane …
In Galveston County, librarians and others are seeing to it that the COVID-19 experience of 2020 is not one that's forgotten by future generations.
The money will help tide businesses over until they're fully reopened.
Darrell Carney, principal of Chrysalis BioTherapeutics, has been given a $1.5 million federal grant to test his COVID-19 product on humans.
Rather than leave a 1.75-mile section of Skyline Drive a no-parking zone, Commissioner Darrell Apffel wants to create designated parking areas for recreational visitors.
Virtual hearings comprise a defendant and prosecutor or judge conferring online.
One man remained hospitalized Tuesday after being shot by an unknown gunman on Monday.
After nearly two days of searching, Danny Wren is still missing.
'We're all trying to make sense of this crazy world and this crazy time.' — Marie Lynn Miranda, former provost at Rice University, a professor of statistics and provost-elect at the University of Notre Dame
Texas A&M veterinary scientists say reports of dogs, cats and even tigers infected with COVID-19 should not feed fear of transmission from pets.
View all