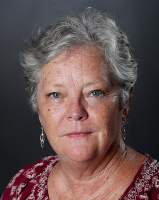 Kathryn Eastburn
Reporter
editor's pick
centerpiece
featured
County residents, businesses seek help, see hope in vast federal relief package.
The COVID-19 emergency is transforming how some congregations celebrate Easter, Passover and other religious traditions.
Complete lockdown approach to COVID-19 seemed extreme, but it worked, according to expatriate Galvestonians in China.
Multiple bond items include $185 million to build a new Ball High School.
An infectious disease researcher's work reveals the effect of coronaviruses on elderly people, those with complicating conditions and those carrying a high viral load.
A transgenic line of mice, developing antigens for testing antibodies and drug trials keep scientists at the University of Texas Medical Branch and the Galveston National Laboratory busy and essential in the fight against COVID-19
Local bank loan program helps bridge the gap of the coronavirus economic crisis until federal programs kick in.
Families in Galveston this week received bags of free fresh vegetables in a common sense action that solved two problems at once in the middle…
Should you avoid ibuprofen if you've got symptoms? Will your microwave kill the virus? 
View all