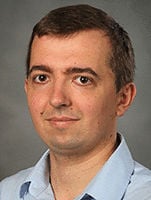 John Wayne Ferguson
Senior Reporter
A list of races and ballot measures in Galveston County on the Nov. 5 election.
A list of early voting locations for the Nov. 5 local and state constitutional election. Early voting starts Monday.
A year after the famous statues were removed from I-45, the sculptures have been split up and installed at two locations.
Announcements about Galveston's new cruise terminal are expected soon. But in Galveston and other cities, some questions whether more cruise ships are worth the costs.
Since 2009, the amount of annual revenue that cruise ship companies generate for the Port of Galveston has more than tripled. 
During a rally in Dallas, the president again made light of plans to build a protective storm surge barrier for Houston.
The city is leasing land on Magnolia Avenue for the new central transit center.
East End and Bolivar Peninsula voters will vote for a school board trustee on Nov. 5.
No recommendations made after marathon meeting.
Eric Vanderheyden was charged with two felonies, according to police
View all