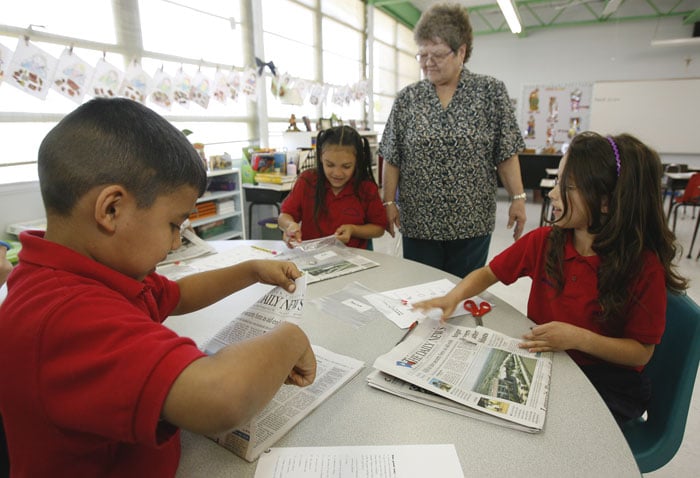 Teacher Mary Urbani of Our Lady of Fatima Catholic School uses the newspaper in her classroom.
Team up with The Galveston County Daily News to support local classroom teachers and students! Classroom copies of The Daily News are available free for local classrooms. We have corporate sponsors and donations of vacation time subscription copies from our subscribers that underwrite the cost of producing and delivering the paper to students.
Our NIE Sponsors
NIE would not be possible without the generous support of our sponsors.
Weekly Teacher Guides
The Daily News is proud to offer — free of charge — an annual lesson plan. For questions and comments, contact our NIE cooordinator.
Newspapers In Education Objectives:
• To educate students and cultivate future readers.
• To narrow the gap between school and the real world.
• To motivate students through challenging newspaper activities.
Newspapers In Education Provides:
• Newspapers at little or no cost.
• Classroom curriculum materials and student programs.
Student Benefits:
• Classroom Newspapers.
• Promote student literacy.
• Provide hands-on opportunities and real life examples of how school subjects apply in today's world.
• Integrate world and local news, politics and technology into the classroom.
• Spark enthusiasm for meaningful classroom interaction.
• Cultivate continued student interest in current events, broadening the ability to learn.
• Serve as a living textbook, allowing student to witness history as it happens.
• Endure as a motivating and stimulating teaching tool.
• Create lifelong learners, more informed consumers and involved citizens.
Newspapers In Education Mission
Newspapers In Education (NIE) at The Daily News is committed to building newspaper readership in an effort to create lifelong learners, informed consumers and involved citizens. NIE promotes literacy and support educational excellence by providing academically sound classroom materials, useful in-service events for teachers and quality services to educators throughout the state.
Why Should Your Business Invest In Our Local Schools Through NIE?
• You will provide a valuable educational resource to thousands of local students.
• Students will benefit directly from your active role in their classroom learning experiences.
• Developing an educated work force improves our community and our economy.
• Newspaper readers become more involved with community activities and civic responsibilities.
• You will be recognized as a corporate citizen interested in quality education.
How Can Your Business Join Newspapers In Education?
You can become a Daily News NIE Sponsor by purchasing daily newspapers for use in our community classrooms. To be a sponsor, contact our NIE cooordinator.