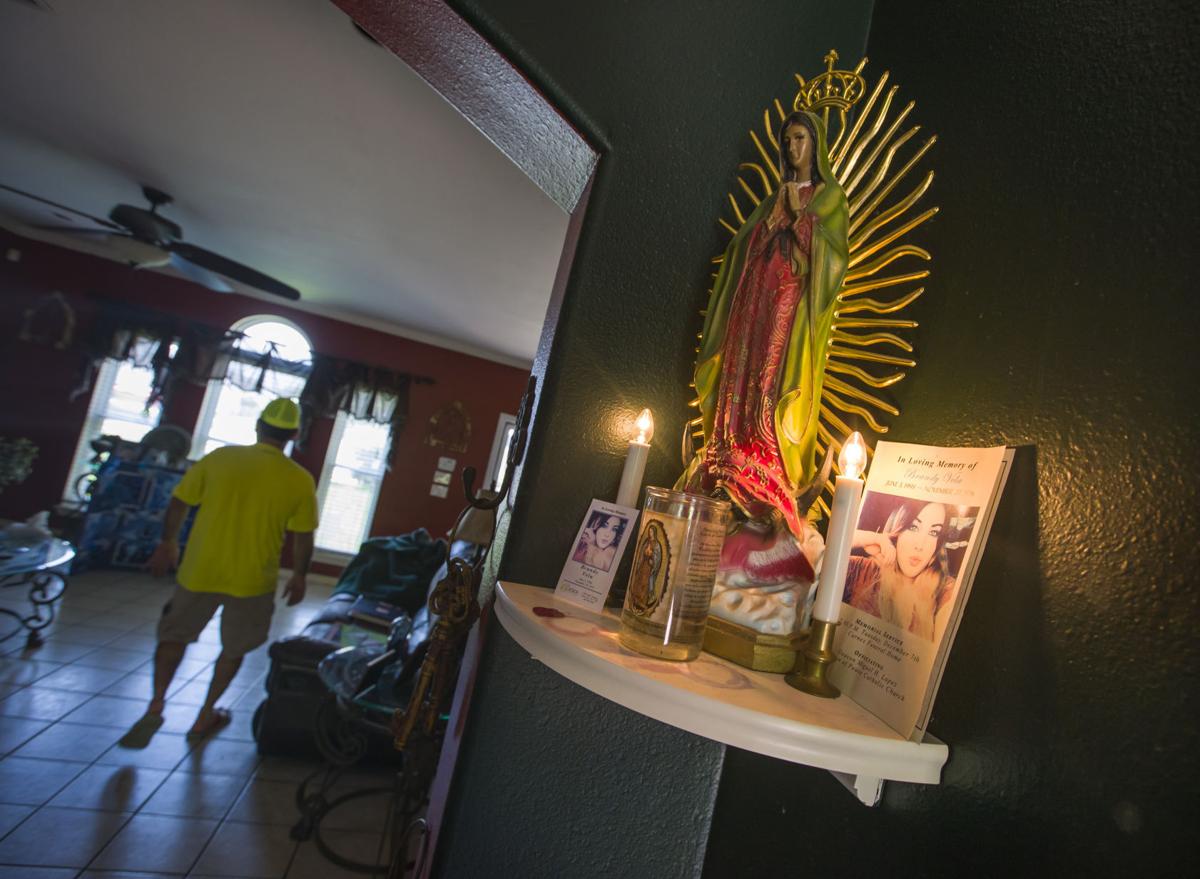 Robert's mother asked a routine question posed to sixth-grade boys on school nights: Had he done his homework?
His reaction was stunning: Robert grabbed his head and curled up as if he were being beaten. He began to cry and rock himself.
His mother stared, dumbfounded.
"What is it?" she asked.
He didn't want to go school, he said. And then a story spilled out about some older boys who had been tormenting him. This was the first his mother knew of it.
When she tried to ask more, he blurted something truly shocking.
"That's why I tried to take my life," he said.
The living room got quiet as Robert's parents tried to comprehend what their 12-year-old son had just said.
"I've never seen my husband cry before," Robert's mother said. "I was overcome. We called the police, and they talked to Robert."
The boy ended up staying overnight in a hospital under psychiatric watch.
National problem, local tragedies
As awful as Robert's torment and his parents' anguish must have been, the family's experience may have been among the best cases. On the other hand, the deaths since 2015 of three teenage girls, all officially ruled suicides and all linked to bullying, may exemplify the worst-case results of what numerous authorities say is a national crisis.
Those teen suicides in Galveston County shocked residents, inspired rallies among people who believe the deaths were directly linked to bullying and moved others, students and adults, to form groups to combat bullying. They inspired a months-long Daily News investigation, the results of which begin with this article, and they launched a community discussion about the problem and possible solutions.
Conflict is normal; all children must learn how to deal with mean people and not to be cruel themselves, educators and advocates said. But bullying is not two equals having a disagreement; it happens in a power imbalance, the strong preying on the weak, the several tormenting the one, according to the National Bullying Prevention Center of the Parent Advocates for Childhood Education Rights.
It's constant harassment, persecution, intimidation and coercion, physical beatings and psychological trauma inflicted through cruel words and the trafficking of nasty rumors. And while the practice is probably as old as human groupings, the spread of, and youthful devotion to, social media gives bullies a modern reach that's almost impossible to escape, even at home.
It's a problem, the scope of which is staggering:
Bullying is a national public health problem affecting as many as 30 percent of school-age children, several academic studies have found.
The long-lasting effects of bullying are serious, the American Psychological Association reported in 2015. Bullying exacerbates adult mental health problems, the National Institutes for Health also reported in 2015.
Bullying is undeniably linked to suicide among young people, authorities say. Bully victims are two times to nine times more likely to consider suicide than other children, according to Yale University.
Suicide, meanwhile, is the third leading cause of death among young people, according to the U.S. Centers for Disease Control and Prevention.
More than 14 percent of high school students have considered suicide; almost 7 percent have attempted it, the CDC said.
A serious factor
"There is an association between bullying and suicide," said Scott Poland, a national authority on suicide and school violence. Bullying is not a direct cause of suicide. But it's the complicated interconnection of mental illness with the higher likelihood of mentally ill children being bullied that makes it a serious factor in young people taking their lives, he said.
Poland is a psychology professor at Nova Southeastern University who works with Safe and Sound Schools, an organization started in Newton, Conn., after the 2012 shooting at Sandy Hook Elementary School. Poland responds to schools that have mass shootings and suicides.
As many as 30 percent of children are bullied in the United States, according to "Preventing Bullying Through Science, Policy, and Practice," a study from the National Academy of Sciences. The study compiled data from academic surveys and government studies, but the numbers vary as do the definitions of bullying. The lowest reported figures in the study are that one out of five children is bullied.
Situations change the statistics, also. For example, gay children are bullied about twice as often as their straight peers, the study said. The place matters, too. Almost half of reported bullying incidents happen in a school hallway or stairwell, according to the study.
Robert's beatings
Some children in Robert's class were in the band hall, which was not allowed. The teacher's policy was that if one person broke that rule, the entire class would be punished. Following the teacher's rules, Robert told her what he knew about the band hall incident.
After the other kids got in trouble, they waited for Robert in the hallway by a set of stairs. They grabbed the smaller boy by the ankles and hung him upside down over the stair railing. They almost dropped him, head first, down to the next floor. No teachers or other adults were around.
Another time, Robert was in PE class when the bigger boys grabbed him and put him in a garbage can and started beating the can.
Robert was bleeding and went to the school nurse.
"It didn't hurt much," the nurse told him, perhaps trying to make things better.
But Robert's mother didn't see it that way.
"I want her job," she said. "Don't tell me it's not real. You tell him it's not real, and he's got blood on his shirt that I just washed."
Robert's mother had to talk his father down from doing or saying anything rash about the incident. Robert's father works for the school district his son attends. Quitting his job isn't an option.
"You've got to afford to live," Robert's mother said.
Suicide shock
Brandy Vela, 18, a senior at Texas City High School fatally shot herself in front of her family on Nov. 29. Cyberbullying contributed to her suicide, her family said. In March, a grand jury indicted Karinthya Sanchez Romero, 22, for stalking and harassing Vela for months and impersonating her in fake online profiles. The grand jury also indicted Andres Arturo Villagomez, 21, for revenge porn, a relatively new charge in Texas. It went into effect Sept. 1, 2015 and is meant to prohibit people from posting sexually explicit images of others without consent, even if the pictures were originally shared willingly.
Other area teenagers whose deaths were ruled suicides may have been victims of bullying.
Bailie Lundy, 15, was found hanging dead in a Texas City park on Feb. 12. She probably took her own life, police said. The Galveston County Medical Examiner's Office ruled the death a suicide and her church, Greater Barbour's Chapel Baptist Church, held a community meeting after her funeral to discuss bullying and suicide.
My'Kayla Thomas, 13, died on Dec. 9, 2015, two days after she fell or jumped from the back of a Galveston Independent School District bus as it traveled on Interstate 45. She was trying to evade other children who were assaulting her, court records said. Her father tried to sue Galveston ISD for negligence, but a judge threw the case out.
'Totally ignored'
After Brandy Vela killed herself, Scott Poland contacted the Texas City Independent School District to offer his help. He has responded to 11 school shootings and more than 100 youth suicides. He co-wrote the Suicide Safer Schools Plan for the state of Texas and previously directed psychological services for Cypress-Fairbanks Independent School District in Houston for 24 years.
The district didn't respond, he said.
"They totally ignored me," Poland said. "Schools ignore that suicide has an impact. It is a huge problem."
The district said it responded thoroughly to Vela's death and relied on local resources.
"With the national attention on Brandy Vela's death, we were inundated with offers of assistance to our school and district regarding suicide, cyberbullying and more," spokeswoman Melissa Tortorici said.
"At that time, we were relying on local assistance. Dr. Poland graciously reached out to the superintendent on Dec. 6 with offers of assistance. At that point, we were relying heavily on local professionals. We have had many discussions with staff on suicide prevention and bullying prevention this semester. Those efforts are ongoing with assistance from local professionals."
Not proactive
Poland maintains that most school districts react to suicide, rather than working to prevent it.
"All the schools ignored it," Poland said.
"The problem is, schools won't do suicide prevention," Poland said. "It needs to be part of the school improvement plan."
Poland said he spoke on suicide prevention a few years ago at Texas City High School. He watched as he spoke to see whether any administration staff would check in, even for a moment. They didn't, he said.
"I know they are busy," Poland said.
His criticism is not limited to Texas City but aimed at schools across the country. In Cheyenne, Wyo., he asked that the administrators come to his presentation for just one hour. They didn't, he said.
"The day before, they spent all day in an active-shooter drill," Poland said. "The number-one cause of death for high school students in Wyoming is suicide. The kindest thing I can say is they were not trained in this area."
Mired in myth
And many school administrators, like the rest of the community, are uncomfortable with the idea of suicide.
"There's a myth: If you talk about suicide, it causes more suicides," Poland said. "You don't glamorize it. You don't name the Valentine's dance after someone who committed suicide."
But you do talk about it, he said.
"Too often, adults with kids are too dismissive," Poland said. "'Time has a way of healing,' we say. We are condescending."
A classmate's suicide affects students for six years, Poland said his research shows.
"When that girl in Texas City committed suicide, it was like throwing a rock in a pond creating a ripple effect," Poland said. Family members and friends carry that trauma with them to class, to work and throughout the community.
"Vulnerable youth find each other," Poland said. Children who are already depressed or suffering are already at a higher risk of both bullying and suicide, he said. When one of their friends commits suicide because of bullying, the risk increases.
"Everyone has a bullying prevention program," Poland said. "This is something that needs buy-in from everybody. We need to increase supervision. We need to implement kindness."
David's story
David was talking with a group of children at his school one morning. He talked so fast, a little spit flew. A bigger boy who often teased him walked over and spit right on David's cheek. Humiliated, David left, but he forgot his lunch kit. When he went back to get it, the bully was still sitting at the table glaring at him.
"Where's my lunch kit?" David asked.
"I threw it away," the bully said.
It wasn't the last day the bully spat on David. And it wasn't the first time kids at school teased him. This year, he was the fat kid and what seemed like jokes made David feel sick.
"I bet when you leave here, you go to the doughnut shop," one child said. "If we got to the store, there would be nothing left."
Other comments were just cruel and crude.
"You're only here because your dad's condom broke," another child said.
Telling a teacher wasn't really an option for David, he said. He was supposed to deal with it. When teachers and adults dismissed the jokes, David figured it was a waste of time to ever tell them anything, he said.
"It felt like, 'You're on their side, too," he said.
When his mother complained to the school about the bullying, the administrators told her they couldn't do anything if he didn't tell them it was happening.
"You have to tell us it's happening," his mom said the school officials told her. "Write it on a piece of paper and leave it in the basket."
David just shook his head.
"I really feel this school failed him," David's father said. "He's not going to tell. They'd rather kill themselves than tell."
Enough is enough
"I had enough," David's father said. "I told him, 'Don't wait for them to hurt you anymore. The only way bullying gets any better is if you stand up."
The next time the bully tried to spit on him, David stood up for himself, just like his father told him to do. The two boys fought. The school suspended David.
But the bullying stopped. At least, it stopped from the boy David fought.
Another classmate who taunted David all year continued to send him text messages that read "I'll cut your head off" and "I'll slit your throat."
The classmate was a girl. Things escalated to the point that one day, she poked him repeatedly with a sharp pencil.
"I will kill you," she said.
"She kicked me; she stabbed me," David said.
So he hit her back with the eraser end of his pencil, he said.
That got David expelled, he said.
When David talked to the school counselor and administrators about the series of incidents, they asked why he didn't say anything.
"Every tragedy that happens to a kid, someone says, 'Why don't they speak up?'" Poland said. But Poland asserts educators and adults should be more tuned in and aware of what's happening among students, Poland said.
Cyberbullying
Taunting on social media, spreading rumors and posting videos makes bullying worse, experts say.
Parents may not realize how much social media magnifies the humiliation and ramifications of bullying because most parents didn't grow up with it, University of Texas Medical Branch psychologist Jeff Temple said. They might have had bullies at school, but once they got home, they didn't have to deal with them.
Today, victims always have to deal with their bullies 24/7.
"They can't escape it," Temple said.
It's not unusual for children to get text messages that say "Kill yourself." A 13-year-old girl who attends a school in an affluent Galveston County community got them. David got them all the time. Robert got them, too.
Cyberbullying shouldn't be considered separate from bullying, the National Academy of Sciences study said. It should be part of the definition.
One of the challenges parents and schools face with cyberbullying is the rapid multiplication of bystanders. Whereas an attack in the hallway might have a dozen bystanders, online attacks can attract hundreds.
Typically, bystanders are children who see bullying, but do nothing to stop it or report it. They might even cheer or whip out a cell phone to take a video to post.
"Bystander is too passive a term," Poland said. "You're a witness."
'One-punch wonders'
Schools with zero-tolerance policies often wind up punishing victims of bullies, juvenile defense attorney Sharon Meier said.
"I call them one-punch wonders," Meier said. These are children who get harassed and bullied continuously until one day, they've had enough and lash back, she said.
Sometimes, children like David defend themselves and get in trouble. Sometimes even children who don't defend themselves get in trouble.
Montana Lance was a 9-year-old in Lewisville, Texas, who killed himself at school after being bullied. A classmate recounted how other students would throw Montana Lance to the ground, and how teachers would send him to the the principal's office instead of the bullies, according to the transcript of a deposition.
On the day Montana Lance died, some bullies in the cafeteria pushed him into a pole, the deposed classmate said. Later, in a school bathroom, Lance told his classmate what happened and of his frustration. The boys were caught talking in the bathroom and sent to the principal's office, the deposed child said.
While they were there, Montana Lance asked to use the bathroom in the nurse's office. He hanged himself and died.
The Lance family sued the Lewisville ISD and lost. They appealed, but the U.S. District Court for the Eastern District of Texas affirmed the earlier ruling.
Zero-tolerance policies rarely work, Judith Kafka said. A professor at Baruch College in New York and an expert on the failures of zero-tolerance policies, Kafka is the author of "The History of 'Zero Tolerance' in American Public Schooling."
"They are not effective," Kafka said.
The popularity of such school policies grew out of a response to drugs and school shootings in the 1990s.
"When the policies were adopted, there was a lot of support on the left and the right," Kafka said. The pendulum is now swinging in the opposite direction with pushback from communities.
"We need to give educators more control," Kafka said.
Solutions
"I don't have a silver bullet," Kafka said. "The best discipline is teaching kids how to behave based on relationships."
Identifying the student leaders on campus and pulling them together is one idea that can work, said Julie Purser, executive director of Family Service Center of Galveston County. Leaders of different factions — goths, preppies, jocks and intellectuals — come together to prevent bullying.
"You do a full day of training and get them to connect," Purser said.
Another program that works is the Fourth R, she said. The Fourth R that follows reading, writing and arithmetic would be relationships. The program replaces health programs in schools. Having kids focus on healthy relationships also teaches them how to deal with drugs and sex as well as bullying, Temple said. He has helped implement the Fourth R program in Houston schools and is studying its effectiveness in middle schools.
Many bullying programs are out there, but parents and schools should consider evidence-based programs, Temple said. Too many bullying programs are emotional responses. One example of a popular program that is not evidence-based is Rachel's Challenge, he said.
Randy Sprick, educational consultant and primary author for Safe & Civil Schools, is another respected expert other bullying experts mention.
"There's not a simple answer," Sprick said. Getting a school staff to work together to teach appropriate behavior is key, he said.
Safe & Civil Schools recently completed a major resource, a 750-page book that has 45 interventions that are like scripts educators can use with students who bully and students who are victims.
Schools need more adults watching all students, Sprick said.
"I'll give you an elementary school example," he said. "A school is better off with one active supervisor on the playground than three adults talking to each other."
He also had a secondary school example. "There's not a high school or a middle school that has enough adults," Sprick said. "You need lots of adults supervising."
Next steps
Texas law doesn't require schools to turn in numbers of bullying incidents. Instead, bullying gets lumped in with "violated local code of conduct" counts in the Texas Education Agency's discipline data.
Texas does allow a child who is bullied to transfer schools, although the school district does not have to provide transportation in such cases.
Robert's parents transferred him to another school in the same district. They are upset the district doesn't provide transportation.
David started a new school in another Galveston County city in late February.