We have two tropical systems headed for the Gulf of Mexico. If they both become tropical storms or hurricanes as expected, it will be the first time since June 18, 1959 that this has happened in the Gulf of Mexico, except that these systems may end up in much closer proximity than those did back in 1959.
As it stands now, a still poorly organized Tropical Depression #14 is moving northwestward at 14-mph just off the coast of Honduras about 165-miles east of Isla Roatan. At 10 am, sustained winds were measured at 35-mph with a central pressure of 1008 MB (29.77"). Meanwhile, further east, newly designated and likewise somewhat poorly organized Tropical Storm Laura is moving westward at 18-mph about 210 miles east-southeast of the northern Leeward Islands.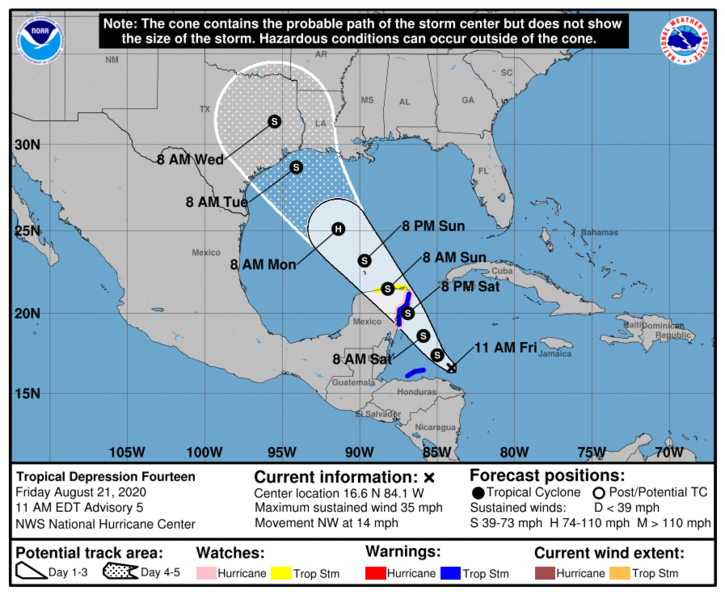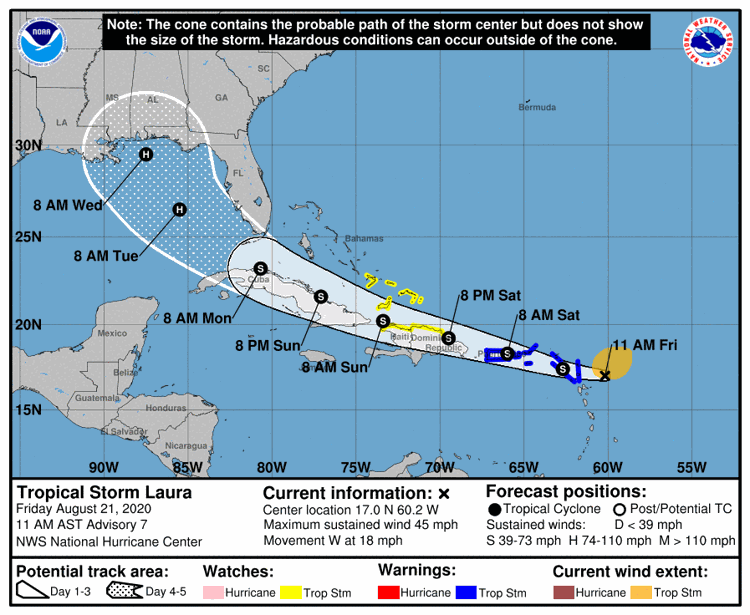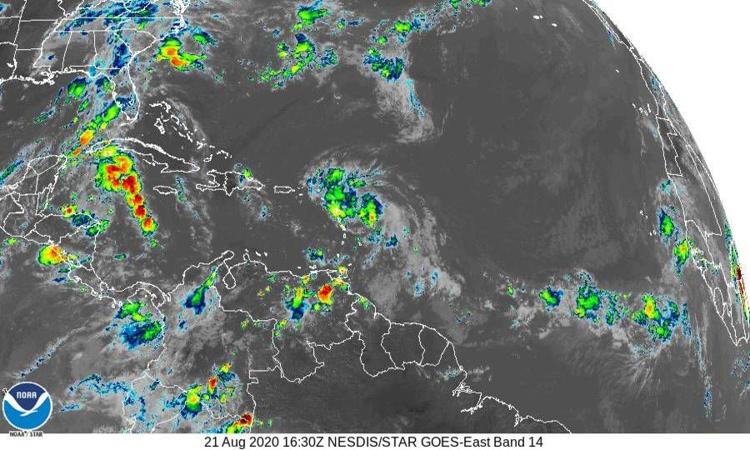 Our most pressing concern (Tropical Depression #14) is projected to intensify as it moves over the warm waters of the Caribbean Sea east of the Yucatan, possibly becoming Tropical Storm Marco prior to tracking across the northeastern part of the Yucatan. The storm is then expected to weaken a little crossing the Yucatan, but then re-intensify in the Gulf of Mexico into a Category 1 hurricane. After that, the National Hurricane Center currently thinks that Marco may weaken a little before landfall (more on this below). By way of contrast, Tropical Storm Laura is expected to attain hurricane status in the southeast Gulf of Mexico and remain a hurricane as it makes landfall near Mobile, Alabama.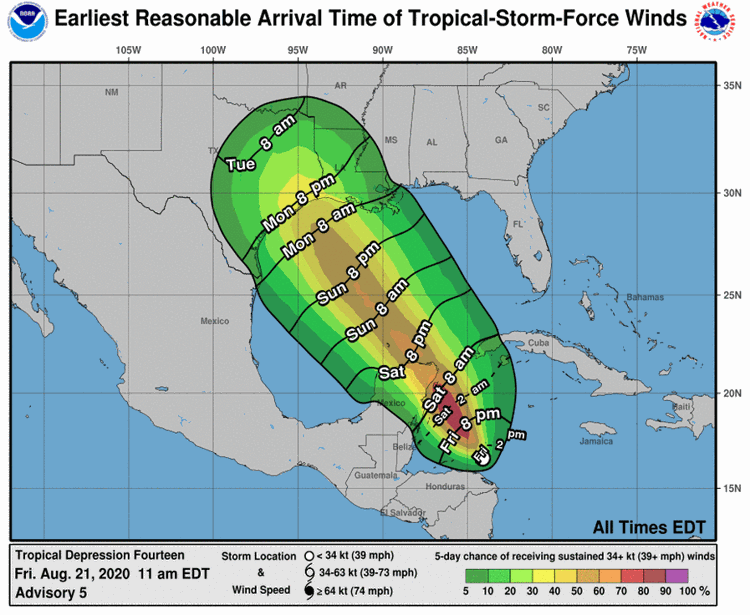 Regardless of these uncertainties, residents of Galveston County, the Bolivar Peninsula and entire Upper-Texas coast could expect tropical storm or hurricane level conditions as early as Monday evening and should prepare for either possibility this weekend.
Among the factors contributing to the forecast uncertainty are: 1) the relatively poor organization of both systems, tracking forecasts more difficult; 2) wind shear over the northwest Gulf of Mexico at the present time associated with an upper-level trough digging south through Louisiana could inhibit organization and intensification. While this factor may abate over time, it could persist long enough to be a factor through the weekend.
Finally, these storms could end up being close enough to each other by early to mid-week that the Fujiwhara Effect could play a role in their progress as they near landfall The Fujiwhara effect describes how storms interact and can impact each other when they track near one another, affecting the movement and intensity of the respective systems. At times, the stronger system can further weaken the other system as subsidence from the stronger system affects the environment around the weaker storm.
It is currently not clear if this factor will come into play, in affecting direction, speed of movement, or respective intensity levels, but it does add a possible complication to an already complex outlook.
Nevertheless, the bottom line for the residents of the Upper-Texas and the northern Gulf Coast remains: