A line of thundershowers was approaching the Galveston Bay area early this morning bringing a chance of some rain to Galveston County. This mirrors what we have seen over the past few days and are likely to see over the next week or so: mostly sunny, hot days with periods of scattered thundershower activity near the coast early in the day and over inland areas in the afternoons as daytime heating destabilizes the atmosphere.
Generally, high pressure will prevail over the Gulf of Mexico with weak disturbances helping to keep widely scattered thundershowers in the picture. In other words, this fairly typical weather for early August should continue for the time being.
Locally, overall precipitation amounts should remain modest with the heavier rains off to our east and south.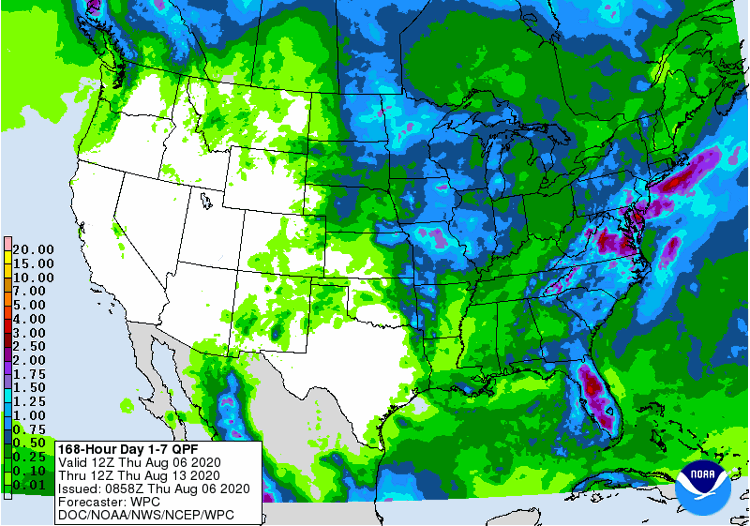 On a more serious note, August and September are the two most active months for tropical storms and hurricanes. The Tropical Meteorological Project has just issued its two-week outlook. The good news is that the Tropics appear to be fairly quiet over the next week or two. As their report states, "The next two weeks look relatively benign" with an area in the western Atlantic having" very low odds" of development.
Unfortunately, their analysis for later in the month and the rest of the season is not so encouraging. Project members have increased the number of storms as we move through the remainder of this hurricane season. Their latest forecast now calls for 15 more named storms (in addition to the 9 that have already appeared), including 10 more hurricanes and 5 major hurricanes. They give a 48% chance of a major hurricane making landfall somewhere between the Florida Panhandle and Brownsville.
In other words, the Tropics may be quite busy as we move into the peak of the hurricane season. As their reports indicate, conditions in the Tropics are likely to become much more conducive to storm development by the time we enter mid-August. Certainly there are indications of increased activity over the eastern Pacific, Central America and the western Caribbean Sea. In fact, the GFS model tends to hint at a fairly significant system in the western Gulf of Mexico by around the 20th and 21st of August. While it is too far out in time to place too much stock in this projection, it should serve as a reminder to finish your hurricane planning, if you haven't already done so.