March, 2020 will almost certainly go into the record books as the warmest March ever in Galveston County (with observations in Galveston going back to 1871). A weak cold front pushing offshore this morning will lower temperatures and humidity levels slightly, but not enough to prevent new record for warmth. The average this month has been (through the 30th) a 71.3° mean at both League City and Galveston, eclipsing the previous record of 70.6°set in 2017.
To illustrate how warm this month has been, if we had these temperatures in April, they would still be 3.6° warmer than the April average at League City and 1.2° warmer on the Island. Given that 4 of the 5 warmest March average temperatures have come since 2012. It makes me wonder if March isn't becoming the new April, climatically speaking!
• Galveston Top 10 List - March
March, 2020 also continued our drier than normal pattern here in the County. Galveston received only 0.27" of rain this month (making it the 8th driest March ever) and League City but 0.37" of rain (2.76" less than would be expected in a normal March).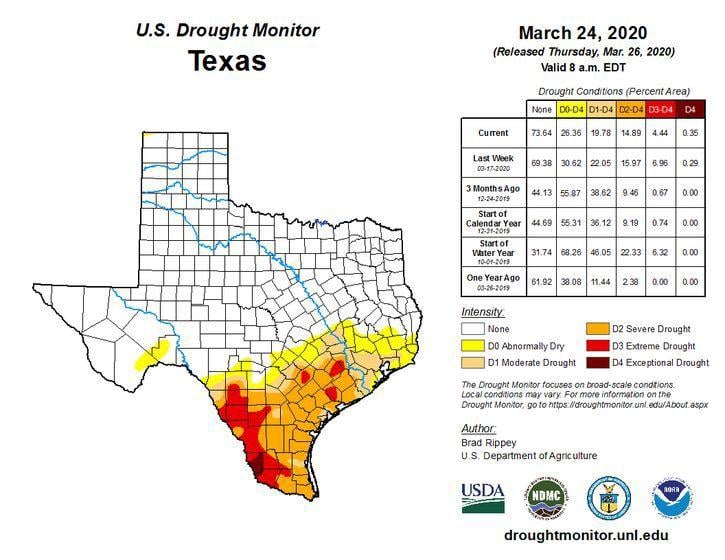 With drought conditions slowly spreading north and east from South and Southwest Texas, we will need some decent rain in April to avoid slipping into a mild to moderate drought by the end of this coming month.
Fortunately, low pressure at the upper-levels to our north and northwest will bring southwest winds aloft. This should bring southwest winds aloft and some upper-level disturbances to Texas over the coming week, with fairly decent rain chances both early this weekend and by the middle of next week. The main complication to this outlook will be how strong a high pressure ridge expected to develop over the northwest Caribbean and southern Gulf of Mexico will be. If it is too strong, it may keep most of the precipitation to our north and west. Still, there is some hope for additional precipitation over the coming week or two.