The phrase "grasping at straws' refers to an old proverb that goes back at least to the Middle Ages. It originally referred to a situation in which a person, caught in a raging river, desperately grasps at the thin reeds and grasses growing near the banks in an order to avoid being swept downstream.
That might be a good metaphor for those of us looking for some relief from the August heat and ground baking dry spell. Temperatures so far this month have averaged 3.3° above normal in Galveston and 4.0° above at League City. This, combined with the fact that both locations have received less than half the amount of precipitation normally expected through the first 12 days of August (only 0.08" in Galveston and 0.52" in League City), more or less sums up of our current situation weather-wise. In other words, some rain and cooler temperatures will be greatly appreciated by many!
The good news is that there may be some relief on the way. A weak cold front (more a wind shift boundary than a "real" cold front) is expected to work its way south over Texas tomorrow and Thursday. This will be aided by a shift of our upper-level high back to the west and an upper-level disturbance to our north. In addition, a surge of moisture expected to pool ahead of the front may provide just what is needed to bring some relief to our area. The bad news is that precipitation and clouds may not be quite as significant as originally expected. Still, local amounts of an inch or more are possible over the next three days and clouds may even hold afternoon temperatures below 90° along the coast.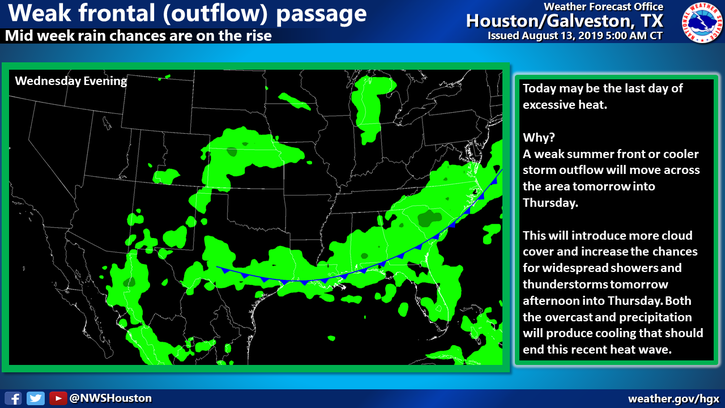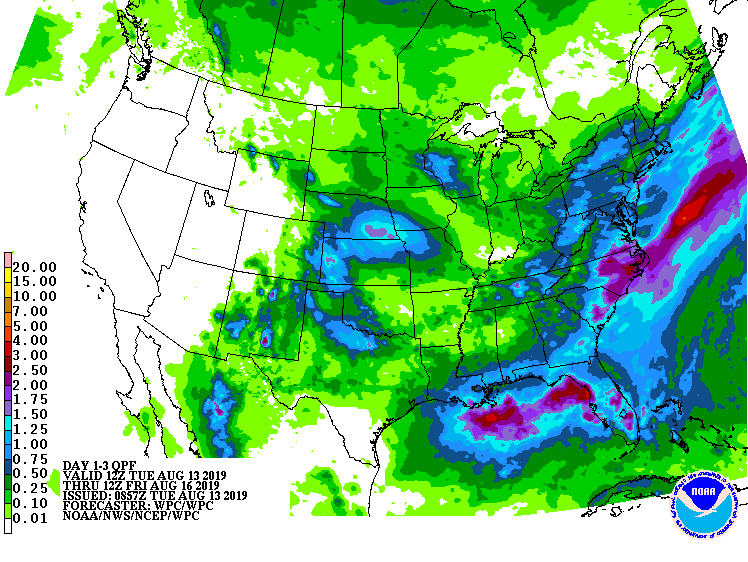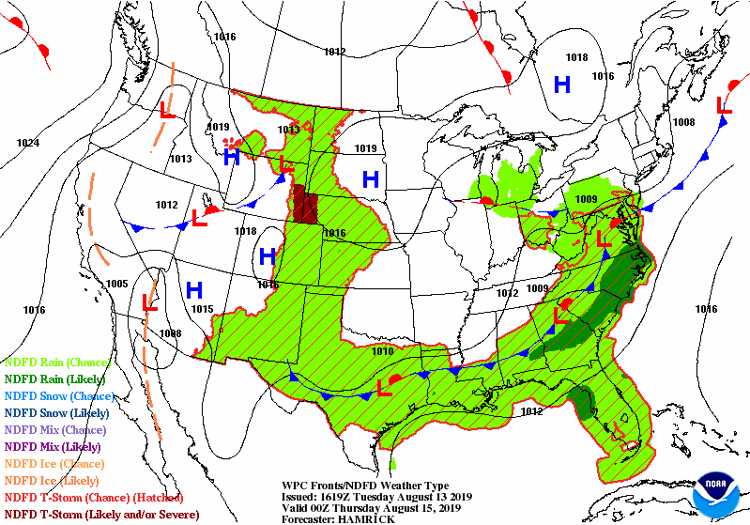 On a positive note, the Tropical Atlantic Basin continues to be quiet and tropical storm formation is not expected anytime soon. Dry, Saharan air continues to flow into much of the Tropical Atlantic and the Caribbean Sea, suppressing activity in those regions.