Hurricane Delta has been upgraded to a Category 3 hurricane with 115 mph sustained winds. Delta has become very well organized and is in a favorable environment. As a consequence, it is expected to become a robust Category 4 hurricane with 140 mph sustained winds within the next 12-24 hours as it moves toward the northeastern Yucatan Peninsula.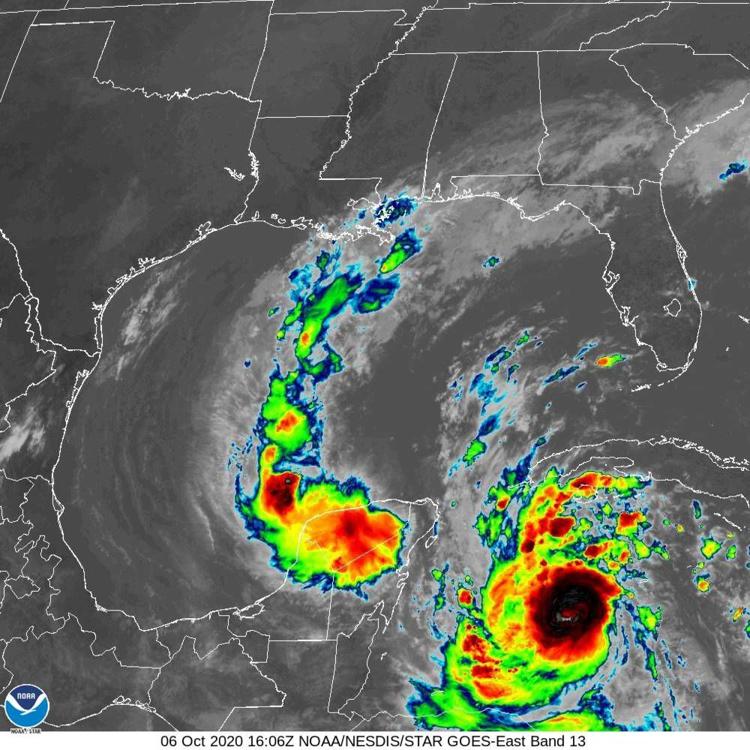 At 10 am, CDT, Hurricane Delta was near 18.2 N and 87.6 W, or about 320 miles east-southeast of Cozumel, which is now under a Hurricane Warning. Barometric pressure has decreased to 955 MB (28.20") and the storm is moving west-northwest at a brisk 16 mph.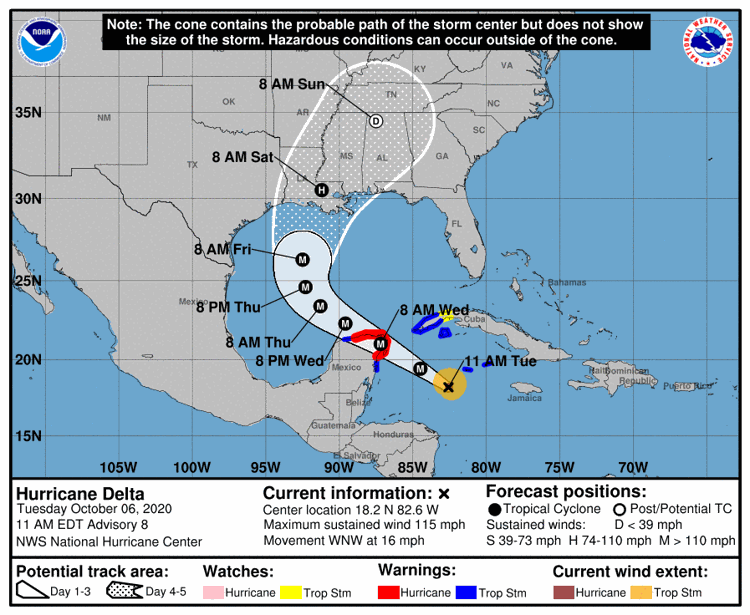 Though the forecast cone has shifted slightly west, the overall track projection has changed little over the past 12 hours with landfall expected somewhere on the Louisiana coast very early Saturday. Although some weakening is expected as the storm nears landfall, due to increasing southwest wind shear and cooler waters near the coast, the National Hurricane Center is advising residents from Louisiana to western Florida to have plans ready for "life-threatening storm surge and dangerous hurricane-force winds."
Assuming Delta follows the projected path, local impacts will be fairly minimal with gusty winds and a chance of thundershowers Thursday through Friday. Other impacts expected by the Houston-Galveston Weather Service Office are "Elevated seas ... on Wednesday with wave heights eventually building 7-10+ feet on Thursday across the Gulf waters. These conditions will persist through Friday. This is likely to require the issuance of Small Craft Advisories. Water levels will increase along the coast reaching 1-1.5 feet above normal levels" and "a high risk for strong rip currents as well as possible wave runup along Gulf-facing beaches."
I would not be surprised to see slightly higher water levels, based upon my observation of Gulf storms over the past half century.
In any case, the bottom line is that current projections keep the storm reasonably far to the east of Galveston County. But, since it will be such a dangerous hurricane, we cannot let our guard down just yet and need to monitor this storm closely as we move through this week. Any change in path to the west could increase local impacts considerably.