The 10 am advisory from the National Hurricane Center again shifted the track a little back to the west (we can expect these shifts as the storm moves into the Gulf of Mexico). At that time, Hurricane Delta had weakened over the Yucatan to a Category 2 hurricane with 105-mph winds and a central pressure of 975 MB (28.88"). Delta was located near 21.4 N and 88.8 W, or about 65-miles west-southwest of Cabo Catoche and was moving northwest at 17-mph on a track that will soon take it into the south-central Gulf of Mexico.
As consequence, a Tropical Storm Watch and Coastal Flood Advisory has been issued for the Galveston area. In addition, a Hurricane Watch and Storm Surge Watch is now in effect from High Island eastward.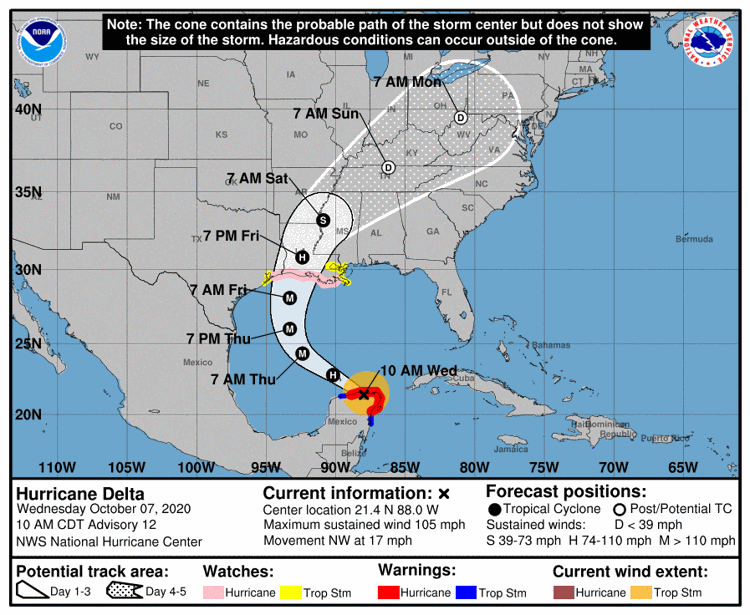 Delta is currently expected to re-intensify over the Gulf of Mexico to a Category 3 hurricane with 120-mph sustained winds. Based upon this information, the Houston-Galveston Weather Service Office is calling for possible tropical storm conditions near the coast and Bay by late tomorrow into Friday.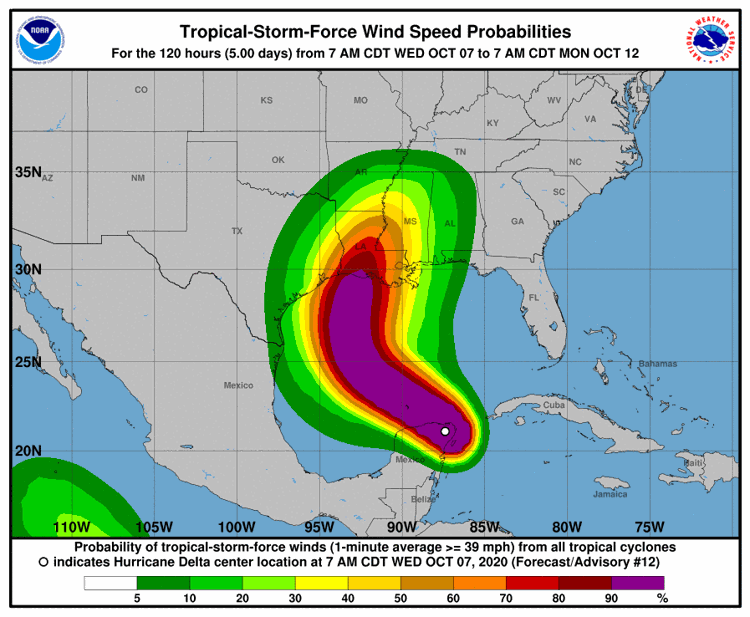 While areas to our east seem likely to bear the brunt of this storm, there will be some impacts locally including some minor coastal flooding and inundation in low-lying and exposed areas with peak surges averaging 1-3 feet along Galveston beaches and bays, 2-4 feet from High Island to Cameron, Louisiana and up to 11 feet in areas of Louisiana just to the right of where the center is expected to make landfall.
Fortunately, excessive rain is not expected to be a problem in Galveston County, though certainly some rainbands could bring wet, gusty conditions at time across the region.
While most models follow the NHC's projections closely, there is enough deviation that local conditions could change significantly depending on the final track and intensity of the storm.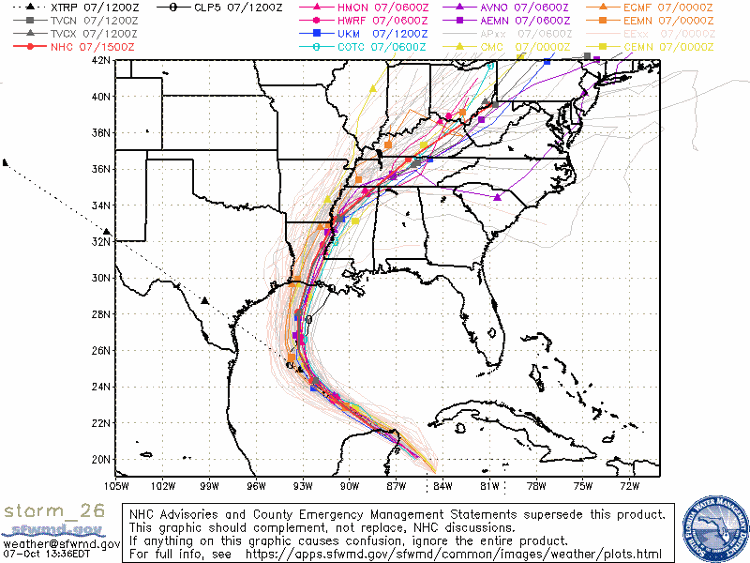 The next major advisory will be at 4 pm and several updated model runs are now appearing. Given this, the best advice is to pay attention to the storm and the advice of the National Hurricane Center and the local Houston-Galveston weather service office.