Spotty thunderstorms have deposited from ¼ inch to 1 inch across various parts of the County over the past couple of days, with official amounts totaling 0.36 inch at Scholes Field in Galveston to 1.07 inch at the Weather Service Office in Dickinson/League City.
This pattern is likely to continue through much of this week as deep, unstable tropical air, daytime heating and weak upper-level low pressure contributes to the development of scattered thunderstorms. So far, amounts have been spotty, but heavier rains will be possible as we move through the new week, with additional amounts of 1-2 inches or more in isolated spots possible over the coming 3-4 days.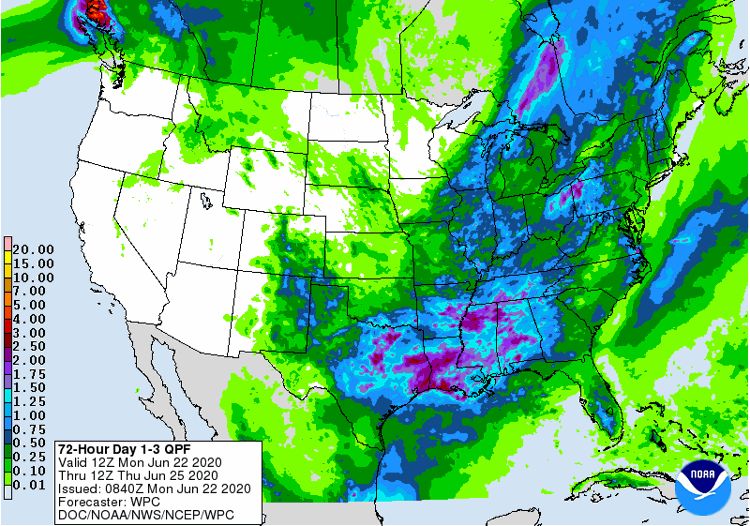 PW values ( a measure of atmospheric moisture content) will linger around the very moist 2.0 mark through Wednesday at least.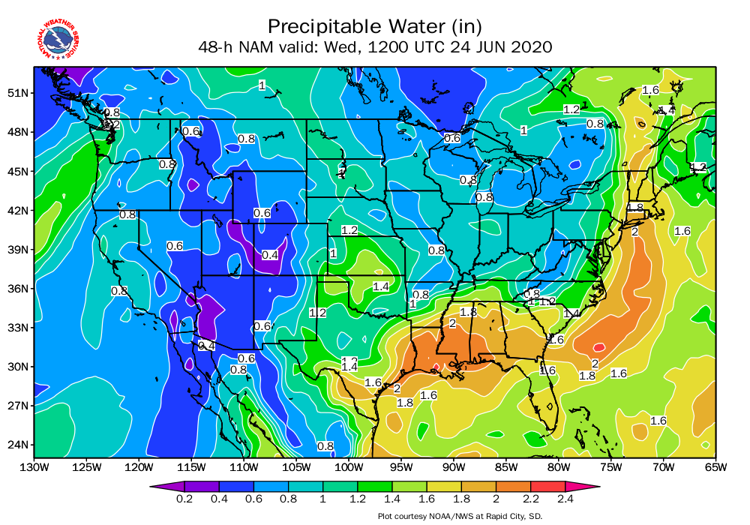 Today, a thunderstorm cluster (officially an MCS or "Mesoscale Convective System" will result in outflow boundaries drifting south into the Houston-Galveston area later today. This combined with daytime heating and deep moisture could foster thunderstorm activity across the area this afternoon into early evening.
The influx of deep moisture has been accompanied by brisk south to south-southeast winds and somewhat elevated tide levels and rough surf along the Gulf Shore and Bay.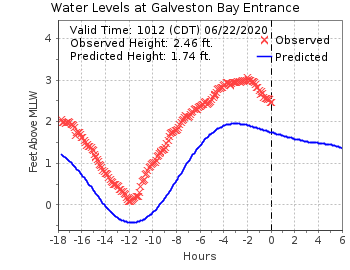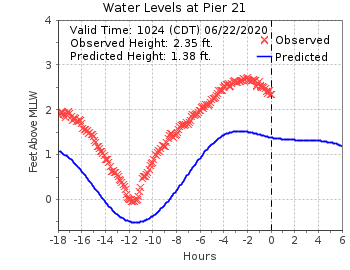 Looking further ahead, rain chances are expected to diminish (though not vanish entirely) over the weekend into early next week, as the first of two dry, Saharan dust clouds reaches the Texas coast. This should result in a slightly drier atmosphere and perhaps contribute to some outstanding sunsets. Also, on the plus side, Chris Davis, a senior scientist and associate director at the National Center of Atmospheric Research notes that the dry air and wind shear that come with the Saharan Dust tends to suppress tropical cyclone formation.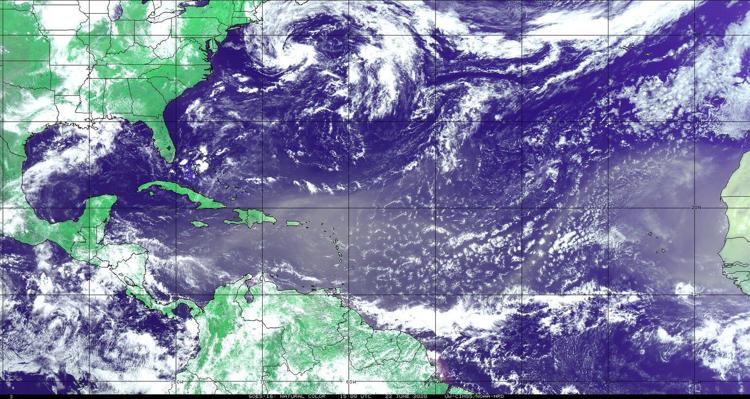 Even so, the GFS (American Model) does hint at some unsettled weather developing in the western Caribbean and/or western Gulf of Mexico around or shortly after July 4th. While it is far too early to place much stock in this, it will be something I keep an eye on as we move into early July.