A weak disturbance tracking west across Louisiana and the northern Gulf of Mexico will keep a decent chance of showers and thunderstorms in our picture for the next day or two. Since these weak disturbances continue to track west across the Gulf, rain chances may even persist a little longer.
Still, the overall trend is favoring more sun and less precipitation as we move into next week as high pressure becomes more dominant over Texas and the Gulf of Mexico. In addition, there are indications that this pattern could prevail through the rest of this month.
Despite the existence of Tropical Storm Chris, now racing northeastward in the Atlantic and the chance that the remnants of Beryl could reform and take a somewhat similar path, the Tropical Atlantic Basin is actually fairly quiet at the present time.
Looking further ahead, the number of tropical storms and hurricanes increases dramatically in August, reaching a peak around September 10.
On this basis alone, we can assume that we will see an increase in tropical activity as we move into August.
However, an eastward moving pattern of disturbed weather, clouds, rainfall, winds, and lower pressure, called the MJO (Madden-Julian Oscillation), may make the Tropical Atlantic even more prone to storm formation as we move into and through August this year.
The MJO transverses the tropics from east to west in a somewhat regular pattern before returning to its initial starting point in about 30 to 60 days. A region in in the so-called "negative phase" of the MJO, is often characterized by increased tropical storm formation.
Unfortunately, it appears that this negative phase, will reach the Gulf of Mexico, Caribbean Sea and Tropical Atlantic by early August, peaking in the eastern Tropical Atlantic by mid-August (the green shading in the image below).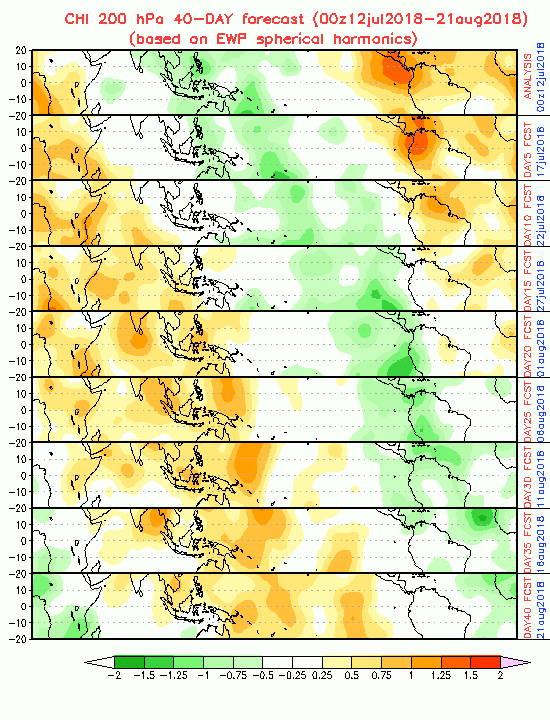 Needless to say, this could lead to some anxious weather-watching as we head towards the peak of the hurricane season!