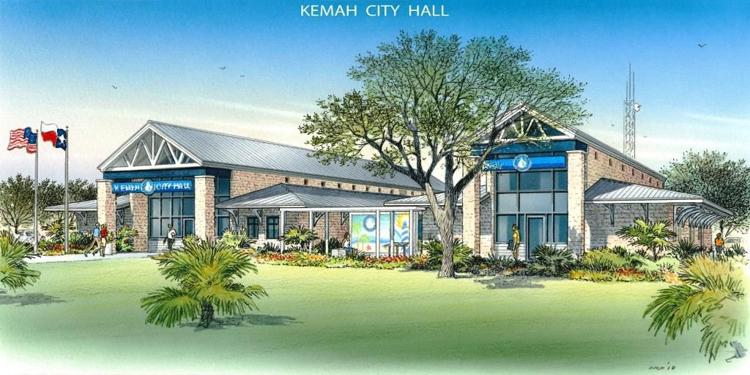 KEMAH
Kemah Mayor Carl Joiner last week signed a building contract of almost $1.6 million, clearing the way for the bayside town's long-anticipated city hall renovation and expansion project to get underway.
Houston-based Durotech, the project's contractor at risk, days before had signed off on a so-called guaranteed-maximum-price contract of $15.665 million. If costs exceed that sum, the company will be required to absorb them.
Kemah's city council, before the mayor's finalizing the contract, had already approved the project, for which ground will be broken no later than early April, Alan Montgomery, who put together Durotech's final figures, said in an interview following the municipality's Feb. 7 approval.
"We should have the completed plans to us within three to four weeks," Montgomery said, regarding the bids being compiled by the project's various subcontractors. "I expect we'll be breaking ground in late March, early April at the latest."
A ceremonial groundbreaking is slated for Wednesday outside the existing city hall.
The contract between the city and Durotech also calls for an additional $150,000 in city hall improvements, including a computer system upgrade, and a $50,000 renovation of Kemah's Foster Park, bringing the total anticipated expenditure to about $1.72 million, slightly above Durotech's maximum guaranteed price of $1.719 million.
Municipal functions will continue without interruption during the anticipated six-month process, Joiner said.
"The project will begin with the addition, so city services aren't interrupted," he said. "Once that's completed, we'll be able to move on with the renovation of the current city hall and city council chambers."
Funding for the project will come from existing city reserves, he said: "No debt will be required."
For now, Kemah's municipal functions — the issuing of permits, collection of various payments, other bill processing and the like — are conducted on a single computer server, one shared by the police department. That will change with the project's various enhancements.
"The police have more confidential information on the server than city hall, so they control it," Joiner said. "City hall having its own server will solve those privacy concerns. This addition and renovation will bring our work environment into the 21st century."
Kemah City Hall opened 22 years ago. Two years later, in 1998, Landry's, the food and entertainment chain, opened the first phase of what is now its 60-acre Kemah Boardwalk development, straining the city's ability to accommodate the resultant growth in tourism — and the requisite increase in policing and other municipal services.
The city hall expansion will add 3,834 square feet to the current, 6,541-square-foot city hall to house the subsequently enlarged municipal and police staffing requirements.
"Back when city hall opened, we didn't even have a city administrator and not all that many visitors," Joiner said last month. "That's all changed."
In the ensuing two-plus decades, city employees have had to double up in cramped offices, and the expanded police department has had to take whatever spaces could be carved out to accommodate it.
"We're looking forward to being able to better communicate with one another," Police Chief Chris Reed said. "It will make us a more cohesive department. We're excited by this development."